As a part of Erasmus Mundus activity, Dr. Murwantoko, Dr Ratih Ida Adarini, and Dr. SIti Ari Budhiyanti visited at University of Stirling on 11-16th February 2019. In this activity, the lecturers from 9 Asia Universities (Universitas Gadjah Mada, Bogor Agriculture University, Jakarta Fisheries University from Indonesia; Asian Institute of Technology, Maejo University, Khon Kaen University from Thailand; Can Tho University, RIA1, Nong Lam University HCM City from Vietnam) and 4 EU partners (University of Stirling United Kingdom, NTNU Norway, University of Thessaly and Euro Training from Greece) engaged in curriculum development process with SSNS project. The agenda had been designed to prioritise discussion on the new courses that are being developed within SSNS covering key points such linking teaching with research and industry; ethical considerations for research and teaching; module syllabus, intended learning outcomes, formative and summative assessments in module design; and also hear from past MSc students, give the opportunity to observe 'live' teaching, and visit a commercial aquaculture cage salmon site.
DAY-1. INTRODUCTION FROM UNIVERSITY OF STIRLING, MSc. COURSES STRUCTURE, AND LABORATORY VISIT
Introduction of the universities was delivered by Prof. Maggie Cusack, Dean of Faculty Natural Sciences; Prof. Simon MacKenzie, Deputy Director of the Institute of Aquaculture; and Prof Rachel Norman, Chain in Food Security and Sustainability.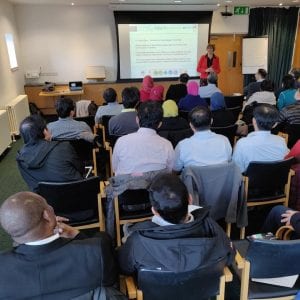 Introduction from Prof. Maggie Cusack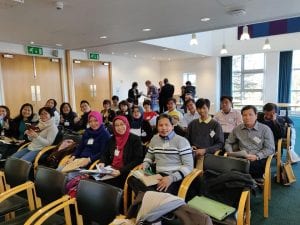 All lecturers from 9 Asia universities and 4 EU partners engaged in curriculum development process with SSNS project
The topic about MSc. Course was delivered by Dr. John Bostock as MSc Aquaculture Program and IoA students about their experience on the course. In this topic, the management explained the importance of course in Stirling, which is supported by students. The students said that IoA had great reputation, excellence laboratory facilities, and had good career prospects that connected with industry. IoA staffs are really invested in their students, even beyond graduation and prepare the students for the job.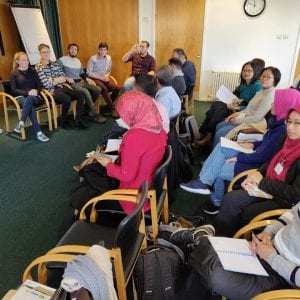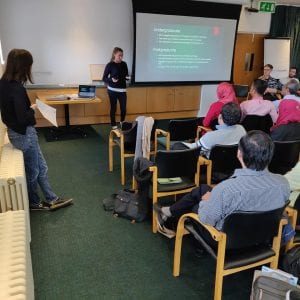 Presentation from M.Sc. students of Institute of Aquaculture
The last activity at 1st day was laboratory visit. The participants visited at Diagnostic Corridor, Nutritional and Analytical Services laboratory, Molecular Biology laboratory, and Tropical Aquarium.
Visit to Tropical aquarium, Dr David Penman explaining about how tilapia genetics resources started at Stirling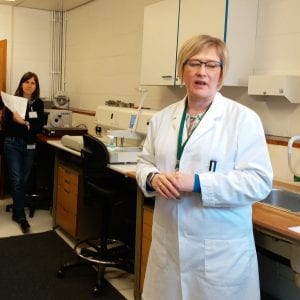 Visit to Diagnostic Corridor, Dr Debbie Faichney explaining about activity at the laboratory